If you have questions about exhaust systems service options or how we can assist, contact us today.
When a vehicle operates, its engine produces various types of gases as emissions, including nitrogen monoxide and oxide, carbon monoxide, and others. Some of these gases are harmful, so releasing them into the cabin of the vehicle could be dangerous. In order to combat this risk, vehicle manufacturers include exhaust systems on the cars they produce, which are designed to collect these exhaust fumes and remove harmful substances, releasing them away from the vehicle. Additionally, exhaust systems are designed to muffle the sounds produced by the engine and other operational components located beneath the hood.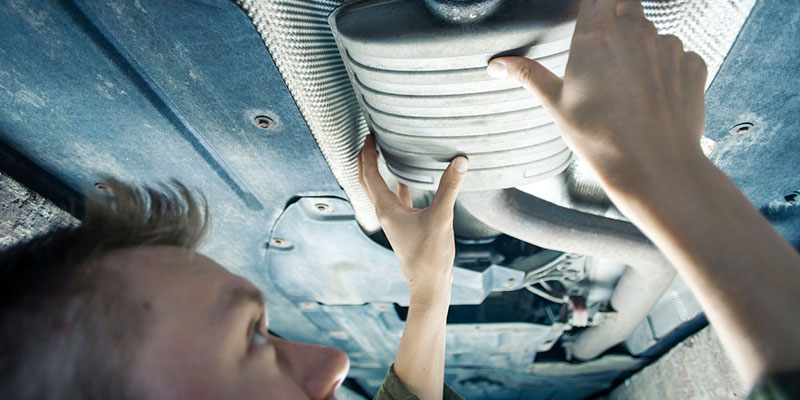 If your exhaust system isn't working properly, you may notice that your fuel efficiency drops or you hear rumbling noises from the muffler or exhaust pipe. Other concerning exhaust problems include unpleasant odors and the sight of colored smoke coming from the exhaust pipe. If you notice any of these issues, our technicians at Johnny's Muffler & Auto Express can provide service on your exhaust system. We work closely with auto owners in and around Salisbury, North Carolina to provide a range of services, including exhaust system repair and maintenance.
AT JOHNNY'S MUFFLER & AUTO EXPRESS, WE SPECIALIZE IN MORE THAN JUST MUFFLER REPAIR
Exhaust systems are made up of several key components, including the manifold, muffler, catalytic converter, resonator, and tailpipe. We can work on any of these components, performing repair or replacement when needed, to ensure that your system is working properly and protecting your vehicle. If you have questions about exhaust system service options or how we can assist, contact us today. We work on all makes and models and provide high-quality automotive service.

---
At Johnny's Muffler & Auto Express, we offer service for exhaust systems to those in Salisbury, Kannapolis, Lexington, Concord, Albemarle, Mocksville, Granite Quarry, Rockwell, Richfield, Asheboro, Denton, Cleveland, Statesville, Mooresville, and throughout Rowan County, North Carolina.
Similar Services We Offer: