Don't hesitate to stop by our muffler shop for an inspection and estimate for your vehicle's exhaust system.
While many people have little concern about their vehicle's muffler other than to be sure it passes inspection and isn't spewing nasty fumes into the cabin space of the vehicle, there are others who turn to a muffler shop for specialty components. Whether you are considering performance mufflers and exhaust systems or just want to put an end to a noisy muffler, our muffler shop is the solution. At Johnny's Muffler & Auto Express, we provide customers from the Salisbury, North Carolina area with all the services needed on mufflers, including repairs, replacement, installation, and custom options.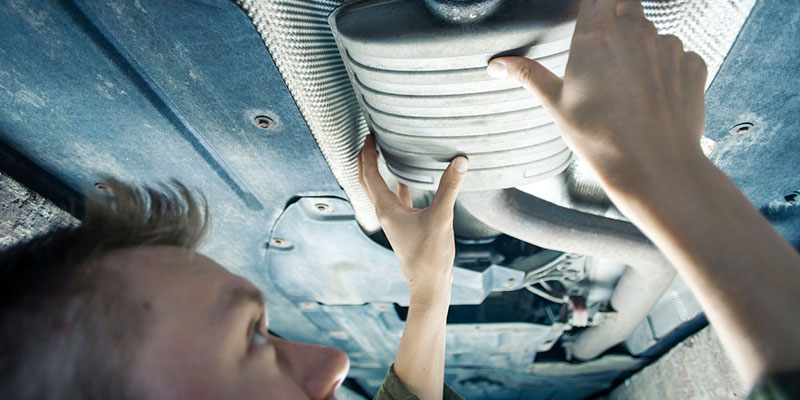 We are proud to say that we are an affordable muffler shop that does better work than those that charge far more. We think it is a travesty when someone drives around an unsafe vehicle just because others charge far too much for muffler work. We care about our community and we don't want any children or their parents to ride around in something that is bad for their health. We have six grandchildren ourselves, so we know how important it is to keep those exhaust fumes out of the vehicle.
AT JOHNNY'S MUFFLER & AUTO EXPRESS, WE SPECIALIZE IN MORE THAN JUST MUFFLER REPAIR
If you are driving around unable to hear conversations in the vehicle because your exhaust is making a horrible racket or you notice fumes, please don't hesitate to stop by our muffler shop for an estimate. We include a one-year warranty on our labor, so you can be confident that you'll get the performance you desire from your new exhaust system. You could even find that you get improved engine performance and gas mileage, as a problematic exhaust system can affect those. Stop in today or call us with any questions you might have.
---
At Johnny's Muffler & Auto Express, our muffler shop is proud to serve those in Salisbury, Kannapolis, Lexington, Concord, Albemarle, Mocksville, Granite Quarry, Rockwell, Richfield, Asheboro, Denton, Cleveland, Statesville, Mooresville, and throughout Rowan County, North Carolina.