We can take care of tire rotations for you, so your tires wear evenly and last longer.
New tires for your vehicle can be a big expense. That is why you want to make sure that you do everything possible to make your tires last longer so you can avoid the cost of tires before it is absolutely necessary. You might be thinking that there really is not much you can do to make your tires last longer, except for maybe driving your car less frequently. But that simply is not the case. We can help you get the most out of your tires and help them last longer by doing regular tire rotations.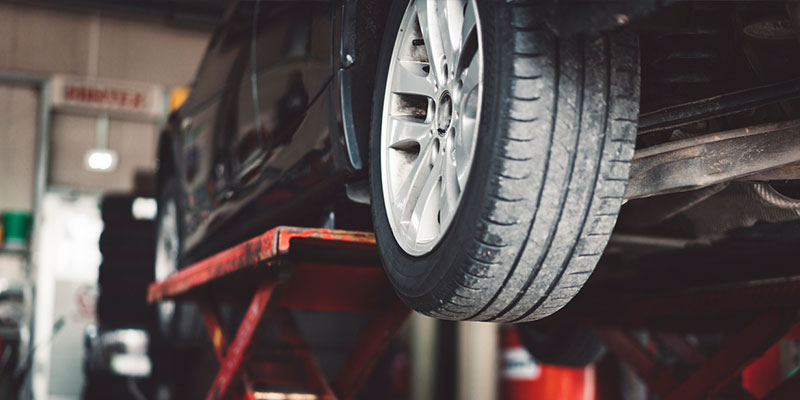 Regular tire rotations are the best way to extend the life of your tires and get the most use out of them. As you drive your vehicle, the tires wear in different places when they are in the front or the back of the vehicle. When one side of the tire is wearing in the same spot, it can cause the tires to wear out faster. When you have your tires rotated it is giving the tires a chance to wear in different spots, making them wear more evenly and this will result in them lasting longer. You will be able to get the most out of your tires and will not have to replace them prematurely.
Should You Plug or Replace that Flat Tire?

Call us today at Johnny's Muffler & Auto Express to schedule tire rotations for your vehicle. Our automotive team is very experienced, and we can have your tires rotated in no time. We can help extend the life of your tires by helping them wear evenly. We have been providing our customers in the Lexington, North Carolina area with reliable auto care and maintenance and look forward to helping you as well.
---
At Johnny's Muffler & Auto Express, we offer tire rotations to those in Salisbury, Kannapolis, Lexington, Concord, Albemarle, Mocksville, Granite Quarry, Rockwell, Richfield, Asheboro, Denton, Cleveland, Statesville, Mooresville, and throughout Rowan County, North Carolina.